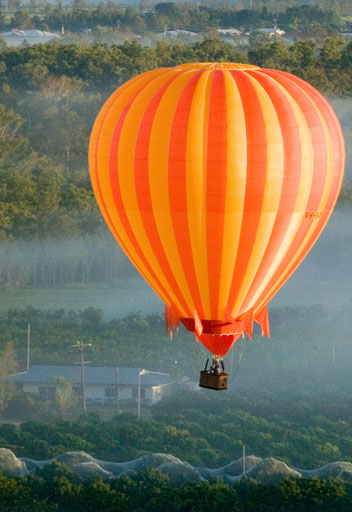 The best time to fly with Champagne Balloons is early morning when conditions are calm and stable. Balloon flights take place shortly after dawn. Good flying conditions are light winds, no rain and good visibility. We usually cover between 5 and 15 Kilometres, depending on the windspeed. Whilst the best time to fly is always in the morning, the actual launch site can change every day!
Our locations for flying are Mareeba on the Atherton Tablelands – also known as the Cairns Highlands, just one hour inland from Cairns, and the Gold Coast Hinterland. Due to Mareeba's unique topography and protected Valley we have some of the best flying conditions anywhere in the world – and the best time to fly is year-round every day of the year. Similarly, the Gold Coast Hinterland offers conditions that are settled and ideal for a ballooning, just over an hour's drive from Gold Coast's coastal development.
After landing, our friendly and professional Crew, who are in radio contact with the pilot, will find us and we then encourage all our guest to take part in the fun packing up of the balloon.
A special camera rigged on the balloon will take a commemorative photograph during the flight, available for purchase and sharing through our dedicated photo website.