See the Gold Coast Like Never Before with a Hot Air Balloon Flight Followed by a Champagne Breakfast at O'Reilly's Grand Homestead & Vineyard
There is no time like the present to set sail along the Australian sky. Enjoy the most popular hot air balloon ride on the Gold Coast along with a mouth-watering hot breakfast courtesy of O'Reilly's Grand Homestead & Vineyard.

You will start your day while other people are still sleeping. In the wee hours of the morning you will enjoy the majestic display of the hot air balloon inflating while meeting the fun-loving, affable crew who will be your tour guides for the morning.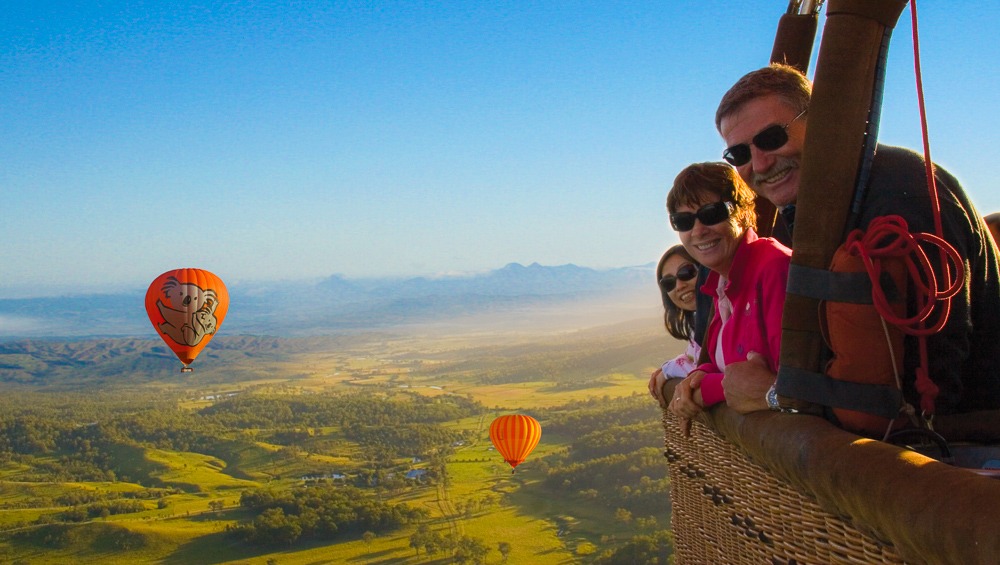 Set sail over the Gold Coast Hinterland which offers up breathtaking views of lush greenery and sweeping hills. Enjoy the picturesque sights of Lamington National Park and soar past the sun-kissed Tamborine Mountain from the comfort of our hot air balloon. Of course you will also not want to miss the sparkling Gold Coast Skyline in the dawn's light. All of these views and more are what you can expect when you set sail with us.
We have chosen The Hinterland as our flight location because it allows us to offer the best views of the Gold Coast by flying higher than other flights. The weather is both stable and reliable in this region which means we can offer this amazing breakfast and flight package more days per year.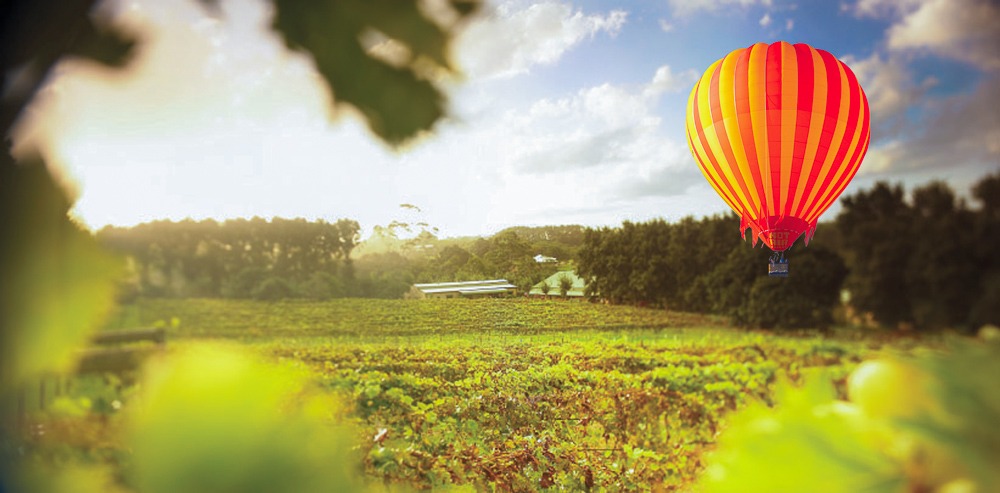 After you have basked in nature's beauty from among the clouds we will land at the O'Reilly's Grand Homestead & Vineyard. If sailing into your day with a sky-view of the sunrise wasn't enough wonder then wait 'til you step foot on this historic homestead. Celebrate your in-flight experience with a cool, crisp glass of champagne while you peruse the classic architecture of the homestead. Then let your taste-buds dance through the hot breakfast served amidst the welcoming ambience of the vineyard. Just to make your morning all the sweeter, you are invited to stroll through the vineyard, relax on the verandas and dive in to the complimentary tastings offered by the vineyard.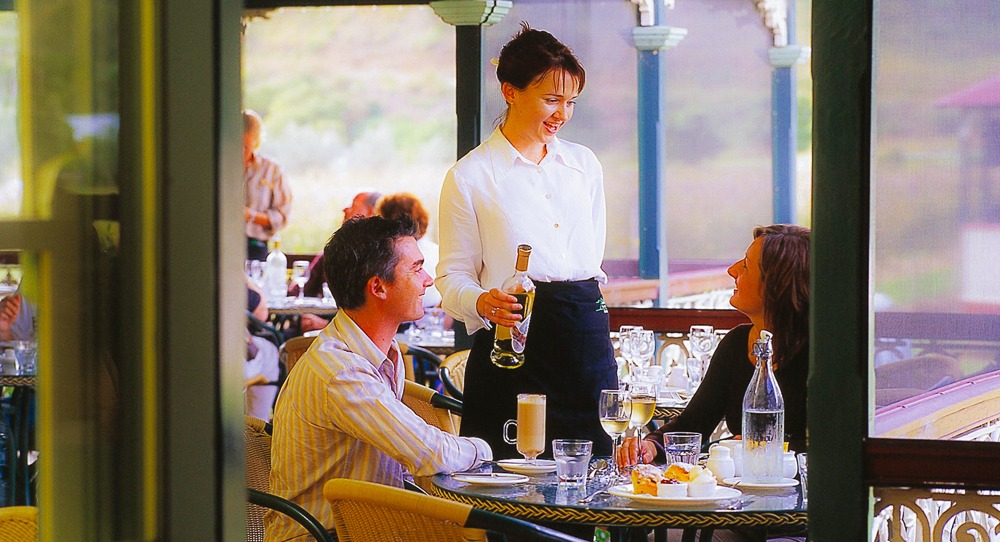 This Air and Land Experience Includes:
Stunning 40-minute Hot Air Balloon Ride
Free Hotel or Meeting Point Pick-up & Drop-off
Expert Commentary
Return Trip in Air-Conditioned Coach with Free WiFi
Champagne and Full Hot Breakfast
Visit to O'Reilly's Grand Homestead and Vineyard
Certificate to Commemorate Your Flight
Itinerary
03:50AM – 4:30 AM (Time Subject to Change with Seasons): Guest Arrival & Hot Air Balloon Inflation
Complimentary transportation from Broadbeach, Surfer's Paradise and Main Beach. There is also the option to meet at Canungra or Nerang. Air-conditioned coach with free WiFi will bring you to the launch site for your hot air balloon ride. The meeting time and location will be confirmed when your reservation is placed.
Your balloon will be captained by our experienced, sky-savvy pilots who hold the record for the most reliable take-offs in the southern hemisphere. Upon your arrival you will have the opportunity to watch the balloon come to life during inflation.
Fun Fact: Our balloons are taller than a ten-story-building! That's impressive.
07:00 AM – 7:30AM: Meet & Greet
Got questions? We've got answers! Get to know our expert staff who will be guiding your balloon through the Gold Coast sunrise. Our pilots will share their vast hot air ballooning knowledge with you and answer any questions you may have about the balloons, the trip and the in-flight experience. Once back on the ground, the crew will entertain you with pack-up games and plenty of laughter.
8:00 AM – 9:15 AM: Return to Earth & Champagne Breakfast
Come down from your nature-filled high and land back on Earth before taking the quick drive to O'Reilly's Grand Homestead and Vineyard. Here you will enjoy a relaxing hot breakfast and crisp, chilled champagne. This breakfast will include fruits, fresh juice, pastries, eggs, bacon and cereal. Take in the beauty of your history surroundings while you tour the homestead; enjoy the peacefulness of the verandas; or sample some of the boutique wines – it's all included.
9:45 AM – 10:30 AM: Return Trip
Finish off your trip with return transportation to your accommodation or meeting point in one of our air-conditioned coaches featuring free WiFi. If you have room for more excitement in your day then you can also choose to hop off at one of our transportation stops at local shopping centers, theme parks or one of the Gold Coast Hinterland tours. Simply call our Reservations Office and let them know where you would like to be dropped off.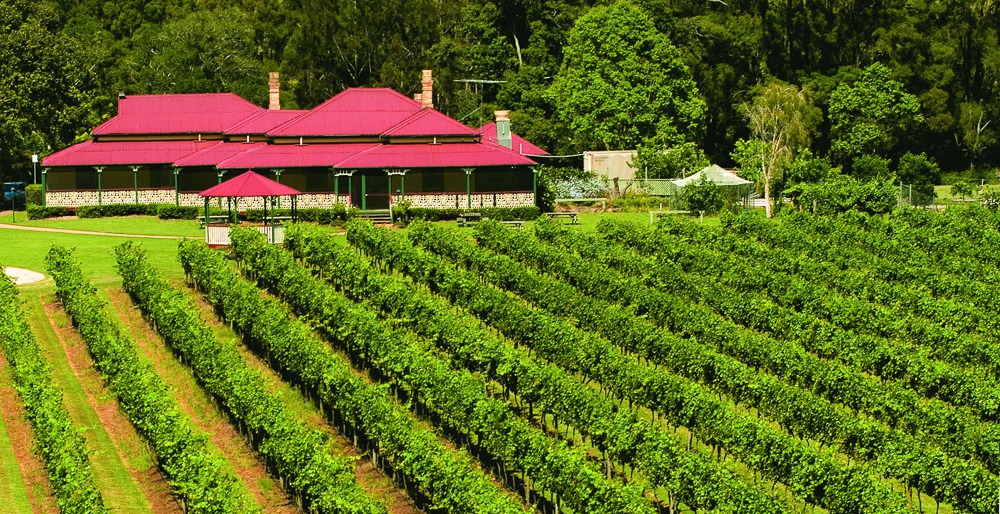 Suggestion: Get the most out of your trip by staying in Mount Tambourine, Scenic Rim or the Gold Coast Hinterland regions. Accommodations in these locations will allow you to really see all that the area has to offer.
What to Bring:
Camera
Walking Shoes
Outdoor Layered Clothing
Sunglasses
Peak Hat
Bottled Water
Your Ticket