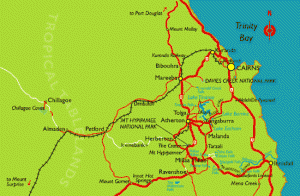 Cairns Highlands is where Champagne Balloons operate with daily departures from Cairns hotels, Port Douglas and the Cairns Beaches Daily. The township of Mareeba is the capital of ballooning in Australia and the place where more people fly than anywhere else because of extremely reliable and stable weather and great prices! The Cairns Highlands is perfect for hot air ballooning as it is surrounded by protective ranges, including the Kuranda Range.
The Cairns Highlands region is less than an hour's drive from the city of Cairns. At an average elevation of 700 metres above sea level the Tablelands are known to be cooler than Coastal locations. The Cairns Highlands are also known also as the Atherton Tablelands, the Atherton Highlands, or just simply, the Tablelands.  Packed with things to see and do, visitors to the Cairns Highlands frequently self-drive and do one of several Tablelands Circuits as a day trip, or elect to stay several nights in one of the many boutique accommodation facilities on offer.
Mareeba is the township around which Champagne Balloons begins its morning flights. Mareeba itself is worth taking time to explore. Highlights include the many local coffee plantations, the Beck Aviation and Military Museum, the annual Warbird Wings and Classic Cars Airshow, the Mareeba Markets, Granite Gorge with its cute and friendly rock wallabies that can be hand-fed, and Mareeba Wetlands. Coming from Cairns, Mareeba is the "gateway" to the rest of the Cairns Highlands. A great option is to stay overnight in Mareeba and self-drive to a pickup point for ballooning on the morning of your flight. Afterwards, you are free to continue your exploration of the Cairns Tablelands!