Cairns Airport – A Wonderful Location
Cairns Airport lies in a highly desirable location – between the Coral Sea and Trinity Inlet to the East, and the hills surrounding Mt Whitfield to the West. It's proximity to the City of Cairns means that transfer times from landing at the airport and arriving at one's accommodation are minimal. The transfer time from the airport to the CBD 7 km away is only 10-15 minutes by taxi. With Cairns major Hotels and Resorts centred within the heart of the city, this makes Cairns a fantastic destination to arrive at by air. Arrive early morning, and be experiencing the Great Barrier Reef or the lush tropical rainforest later the same day!
Cairns busiest international routes include Tokyo and Osaka (Japan), Hong Kong, Auckland (New Zealand), Shanghai (China), Guam, Dempasar (Indonesia) and Port Moresby (Papua New Guinea) and via Darwin to Singapore, with nearly 4 million visitors annually.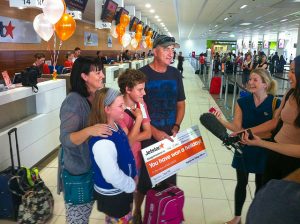 Two terminals provide individual services for Domestic and International travellers. For connections between the two, there is a covered walk of only 5 minutes allowing easy transfer.
Facilities include WiFi, currency exchanges, a range of food and beverage options, various Duty Free shops, and Restrooms and Showers.
Further information and contact details
Cairns Airport official website
Cairns Airport official Facebook Page
WikiPedia page on Cairns Airport
IATA Code: CNS
ICAO Code: YBCS
Mailing Address: PO Box 57 Airport Administration Centre, Cairns Airport QLD 4870
Business Office: Tom McDonald Building, Rapide Court, Cairns Airport
Telephone: +61 7 4080 6703 (0820 – 1700hrs Mon – Fri excluding Public Holidays)
Fax: +61 7 4080 6704
Email: [email protected] (Office Hours only)
ACN 132 228 221 ABN 18 132 228 221
Address: Airport Avenue, Cairns Airport, Cairns QLD 4870 Australia